Books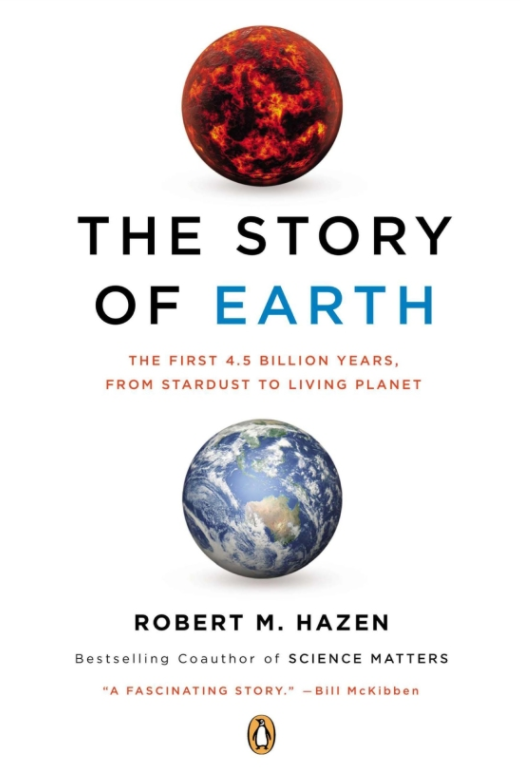 THE STORY OF EARTH: THE FIRST 4.5 BILLION YEARS, FROM STARDUST TO LIVING PLANET
Robert Hazen's most recent book, The Story of Earth, published by Viking New York, was released in April 2012. Click here for an interview in which Robert Hazen discusses carbon and its connections to life on Earth with Scientific American Book Club's editor-in-chief Joseph Craig. 
---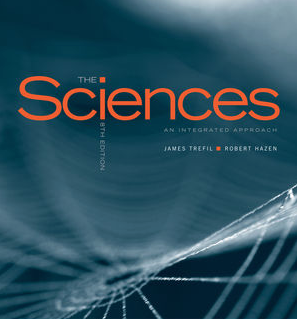 THE SCIENCES: AN INTEGRATED APPROACH, 8TH EDITION
With James Trefil.
The Sciences: An Integrated Approach, Binder Ready Version, 8th Edition by James Trefil and Robert Hazen uses an approach that recognizes that science forms a seamless web of knowledge about the universe. This text fully integrates physics, chemistry, astronomy, earth sciences, and biology and emphasizes general principles and their application to real- world situations. The goal of the text is to help students achieve scientific literacy. Applauded by students and instructors for its easy-to-read style and detail appropriate for non-science majors, the eighth edition has been updated to bring the most up-to-date coverage to the students in all areas of science.
---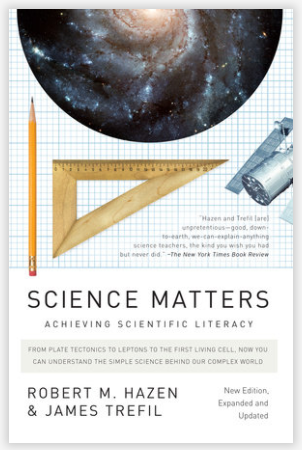 SCIENCE MATTERS, 2ND EDITION
Science Matters is a rare exception-a science book for the general reader that is informative enough to be a popular textbook for introductory courses in high school and college, and yet well-written enough to appeal to general readers uncomfortable with scientific jargon and complicated mathematics. And now, revised and expanded for the first time in nearly two decades, it is up-to-date, so that readers can enjoy Hazen and Trefil's refreshingly accessible explanations of the most recent developments in science, from particle physics to biotechnology.
---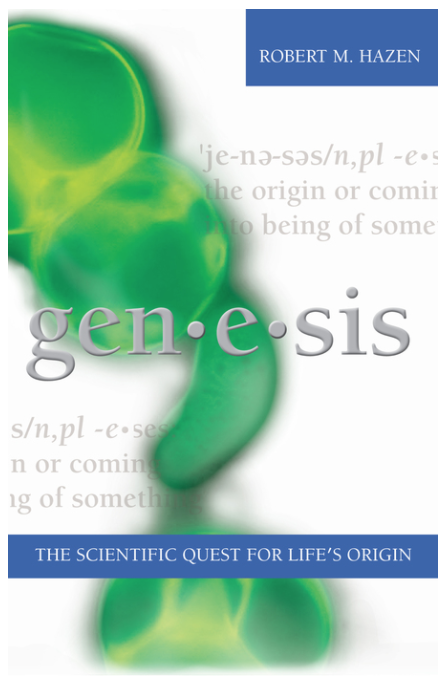 GENESIS: THE SCIENTIFIC QUEST FOR LIFE'S ORIGINS
Genesis: The Scientific Quest for Life's Origins is a first-hand account of research on chemical evolution and the origin of life. See
Amazon.com
and
The National Academies Press
 "Hazen's mesmerizing "Genesis," [is] an account of the exciting and often eccentric quest for answers to the great conundrum on the outermost frontier of the earth sciences. ... [a] delightful guided tour of the wild theories, daring experiments and raging feuds." Andrew O'Hehir, Salon.com "[Hazen's] writing is clear and entertaining, giving a delightful look into his unpredictable experimental work without shying away from the complexity of the science."
Publishers Weekly "A lively insider account of the various ongoing scientific investigations into the origin of life... (An) evenhanded and compelling read."
Library Journal "In clear, careful prose Hazen takes us into laboratories, meticulously describes experiments, offers theories, supports them, and then questions them. His process mirrors science's own, step by step from details to educated guesses about larger designs, pointing out possible pitfalls along the way. ... Before we submit to raising a nation of scientific illiterates -- can we really afford to do that? -- we should read books like Hazen's. He presents evidence clearly and leaves mystery, for me the core of religious faith, intact." Sam Coale, Providence Journal "Clear, direct, friendly, and occasionally philosophical or poetical, he makes an excellent guide through some difficult and arcane thickets of scientific inquiry." David Loftus, California Literary Journal
You can now access Genesis:  The Scientific Quest for Life's Origins at The National Academies Press website: "Hazen has constructed a beautiful, interesting account of this research field, full of discoveries and tragedies, large and small. ... This is the best origins-of-life account that I have seen." Jack Cohen, BBC Focus
Citation: National Research Council. 2005. Genesis: The Scientific Quest for Life's Origin. Washington, DC: The National Academies Press.
https://doi.org/10.17226/10753
.
368 pages; ISBNs: PDF Full Book: 978-0-309-65379-4; Ebook: 978-0-309-13346-3
---
PHYSICS MATTERS: AN INTRODUCTION TO CONCEPTUAL PHYSICS
With James Trefil.
---
GREAT IDEAS OF SCIENCE: A READER
---
WHY AREN'T BLACK HOLES BLACK: THE UNANSWERED QUESTIONS AT THE FRONTIERS OF SCIENCE
Why Aren't Black Holes Black: The Unanswered Questions at the Frontiers of Science (Anchor, 1997), with Maxine Singer, examines some of the most compelling mysteries of science, including dark matter, the origin of life, and the search for extraterrestrial intelligence. See Why Aren't Black Holes Black: The Unanswered Questions at the Frontiers of Science at Amazon.com "For the non-technical layman, it is simply the best, liveliest and most accessible broad summary of the hottest topics in science today." Curt Suplee, Washington Post, Book World "A well-written popular account of the whole of science." Lewis Wolpert, Nature "Very refreshing ... timely counterweight to the many things physicists don't really understand." Michael Redhead, The New York Times "This exceptionally cogent introduction should well acquaint the curious with the foci of contemporary research." Booklist
---
THE PHYSICAL SCIENCES: AN INTEGRATED APPROACH
---
---
THE NEW ALCHEMISTS: BREAKING THROUGH THE BARRIERS OF HIGH PRESSURE
---
SCIENCE MATTERS: ACHIEVING SCIENTIFIC LITERACY
Science Matters: Achieving Scientific Literacy (Doubleday, 1991; softcover by Anchor, 1992), coauthored with James Trefil outlines a strategy for reforming science education and summarizes the great principles of science. It has appeared in a dozen foreign language editions. The book rose to #6 on The Washington Post nonfiction best-seller list. See
Science Matters: Achieving Scientific Literacy at Amazon.com
"For overall page-turning readability, Science Matters is as good as they get. ...Lucid and lively. Hazen and Trefil have a particular genius for picturing even formidably abstract ideas in concrete images." Curt Suplee, The Washington Post "Good, down-to-earth, we-can-explain-anything science teachers, the kind you wish you had but never did." The New York Times Book Review "Confident overview of the fundamentals of science .. the text is comprehensible and carefully paced." Booklist "A first-rate exposition - thorough, accessible, and entertaining - of the rudiments of scientific knowledge. ... Easily one of the finest single-volume introductions to science." Kirkus Reviews
---
THE BREAKTHROUGH: THE RACE FOR THE SUPERCONDUCTOR
The Breakthrough: The Race for the Superconductor (Summit, 1988; softcover by Ballantine, 1990) describes the intense competition in early 1987 to discover superconductors that work at practical temperatures. The book appeared onThe Washington Post nonfiction top-10 bestsellers list. See
The Breakthrough: The Race for the Superconductor at Amazon.com
"Hazen writes with wonderful clarity about science. ... The Breakthroughremains in the best tradition of popular science writing. It's an exciting read that effortlessly teaches as it zips along." Christopher Lehmann-Haupt, The New York Times  "A lively, pungent description of life in the laboratory. ... There are not many books about science that read so well." Philip J. Hilts, The Washington Post "The Breakthrough is an enthralling account of leading edge science being carried out at breakneck speed, leading up to a tense climax." Robert Matthews, The Times, London "Part diary, part cliffhanger, Hazen's book brings home the thoroughly human side of science - the high-pitched emotion, clashing egos and occasional betrayals. ... deftly woven with scientific details, The Breakthrough is itself a kind of breakthrough." David Stipp, The Wall Street Journal "Class A popular science writing." Booklist "An exhilarating account of one of the most exciting technological developments of the century." Kirkus Reviews
---
KEEPERS OF THE FLAME: THE ROLE OF FIRE IN AMERICAN CULTURE, 1775-1925
With Margaret Hazen. 
---
THE MUSIC MEN: AN ILLUSTRATED HISTORY OF BRASS BANDS IN AMERICA, 1800-1920
With Margaret Hazen.
This book won the ASCAP Deems Taylor Award for 1989.
---
---
THE POETRY OF GEOLOGY
---
COMPARATIVE CRYSTAL CHEMISTRY: TEMPERATURE, PRESSURE, COMPOSITION AND THE VARIATION OF CRYSTAL STRUCTURE
With Larry Finger